Administrator
Staff member
During a recent visit to Google's Color, Material and Finish (better known as CMF) studio, I watched while Jess Ng and Jenny Davis opened drawer after drawer and placed object after object on two white tables. A gold hoop earring, a pale pink shell — all pieces of inspiration that Google designers use to come up with new colors for devices, including the just-launched
Pixel 6 and Pixel 6 Pro
.
"We find inspiration everywhere," Jenny says. "It's not abnormal to have a designer come to the studio with a toothbrush or some random object they found on their walk or wherever."
The CMF team designs how a Google device will physically look and feel. "Color, material and finish are a big part of what defines a product," Jess, a CMF hardware designer, says. "It touches on the more emotional part of how we decide what to buy." And Jenny, CMF Manager for devices and services, agrees. "We always joke around that in CMF, the F stands for 'feelings,' so we joke that we design feelings."
The new Pixel 6 comes in Sorta Seafoam and Kinda Coral, while the Pixel 6 Pro comes in Sorta Sunny and Cloudy White, and both are available in Stormy Black. Behind those five shades are years of work, plenty of trial and error…and lots and lots of fine-tuning. "It's actually a very complex process," Jenny says.
Made
more
complex by COVID-19. Both Jenny and Jess describe the color selection process as highly collaborative and hands-on, which was difficult to accomplish while working from home. Designers aren't just working with their own teams, but with those on the manufacturing and hardware side as well. "We don't design color
after
the hardware design is done — we actually do it together," Jenny says. The Pixel 6 and Pixel 6 Pro's new premium look and feel influenced the direction of the new colors, and the CMF team needed to see colors and touch items in order to select and eliminate the shades.
They don't only go hands-on with the devices, they do the same with sources of inspiration. "I remember one time I really wanted to share this color because I thought it would be really appropriate for one of our products, so I ended up sending my boss one of my sweaters through a courier delivery!" Jenny says. "We found creative workarounds."
Photograph of various yellow to peach to pink items as well as a gold hoop earring and a Sorta Sunny Pixel 6 Pro on a white table.
Photograph of the Stormy Black Pixel 6 next to the black case and various items in different shades of black, including a small, shiny black spoon.
Photograph of the frosted white Pixel 6 case next to various items of shades of white, including a paper flow.
Photograph of the Kinda Coral Pixel 6 next to a pink cube and a pale pink shell.
The team that designed the new Pixel 6 and Pixel 6 Pro case colors did as well. "The CMF team would make models and then take photos of the models and I would try to go in and look at them in person and physically match the case combinations against the different phone colors," says Nasreen Shad, a Pixel Accessories product manager. "Then we'd render or photograph them and send them around to the team to review and see if what was and wasn't working." In addition to the challenge of working remotely, Nasreen's team was also working on something entirely new: colorful, translucent cases.
Nasreen says they didn't want to cover up the phones, but complement them instead, so they went with a translucent tinted plastic. Each device has a case that corresponds to its color family, but you can mix and match them for interesting new shades.
That process involved lots of experimenting. For example, what eventually became the Golden Glow case started out closer to a bronze color, which didn't pair as well with the Stormy Black phone. "We had to tune it to a peachy shade, so that it looked good with its 'intended pairing,' Sorta Sunny, but with everything else, too. That meant ordering more resins and color chips in different tones, but it ended with some really beautiful effects."
Beautiful effects, and tons of options. "I posted a picture of all of the possible combinations you can make with the phones and the cases and people kept asking me, 'how many phones did Google just release!?'" Nasreen laughs. "And I had to be like, 'No, no, no, these are just the cases!'"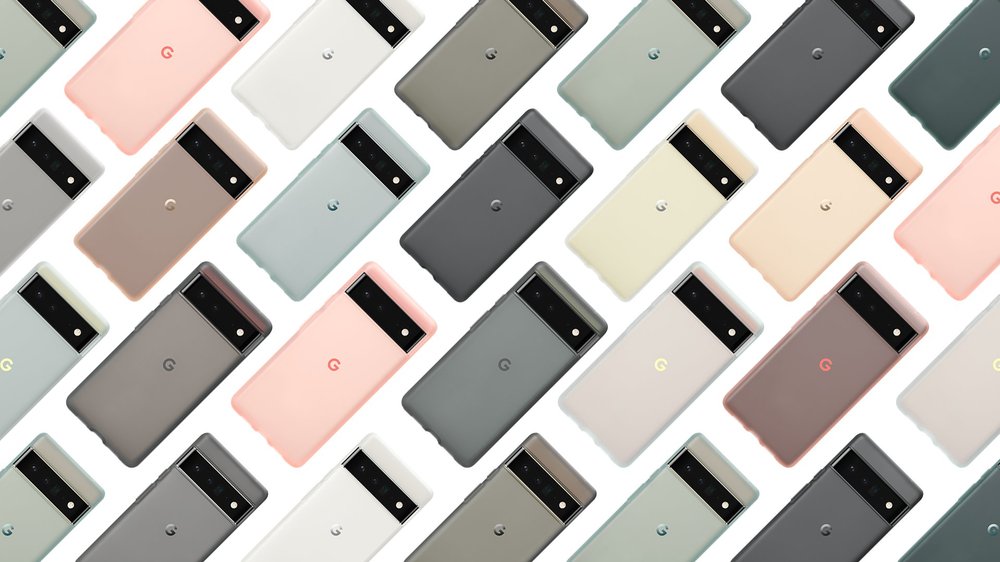 Google designers often only know the devices and colors by temporary, internal code names. It's up to their colleagues to come up with the names you see on the Google Store site now. But one person who absolutely knows their official names is Lily Hackett, a Product Marketing Manager who works on a team that names device colors. "The way that we go about color naming is unique," she says. "We like to play on the color. When you think about it, it's actually very difficult to describe color, and the colors we often use are subtle — so we like to be specific with our approach to the name."
Because color can be so subjective (one person's white and gold
dress
is another's black and blue dress), Lily's team often checks in with CMF designers to make sure the words and names they're gravitating toward actually describe the colors accurately. "It's so nice to go to color experts and say, 'Is this right? Is this a word you would use to describe this color?'"
Lily says their early brainstorming sessions can result in lists of 75 or more options. "It's truly a testament to our copywriting team. When we were brainstorming for Stormy Black, they had everything under the sun — they had everything under the moon! It was incredible to see how many words they came up with."
These days, everyone is looking ahead at new colors and new names, but the team is excited to see the rest of the world finally get to see their work. "I couldn't wait for them to come out," Lily says. "My favorite color was even the first to sell out on the Google Store! I was like, 'Yes, everyone else loves it, too!'"
Related posts:​
135 countries and counting: travel the world with #teampixel Wondering what our community of Pixel photographers has been up...
See your world differently with Playground and Google Lens on Pixel 3 Our phone's camera has become an important part of our...
The latest features for Pixel owners are here One of the best parts of Pixel is regular feature...
Continue reading...