Administrator
Staff member
Last week we unveiled the
new Pixel 6 and Pixel 6 Pro
— and we unveiled
a lot
. Aside from the two new phones themselves, there was also
Google Tensor
, our custom system on a chip (SoC) that takes advantage of our machine learning research. Then there's
Magic Eraser
, which will take unwanted people and objects out of your photos — plus
Pixel Pass
, a new way to buy, and a ton of new features packed into
Android 12
.
More from this Collection
Pixel 6 and Pixel 6 Pro​
The Pixel 6 and Pixel 6 Pro have arrived, and so have plenty of new features.
View all 8 articles
Amid all the
new
, you may have missed a thing or two. But don't worry, we went ahead and collected everything you might have missed, and some extras, too.
One of the key differences between Pixel 6 and previous editions is the radical redesign of the hardware encasedin aluminum and glass.
2.
Real Tone is a significant advancement
, making the Pixel 6 camera more equitable, and that's not all: It also
improves Google Photos' auto enhance feature on Android and iOS
with better face detection, auto white balance and auto exposure, so that it works well across skin tones.
3. Speech recognition has been updated to take advantage of Google Tensor so you can
do more with voice
. We've added automatic punctuation while dictating and support for voice commands like "send" and "clear" to send a message or edit it.
With new emoji support
, I can just say ''pasta emoji" while dictating. (Which, I admit, is going to get a lot of use.)
4. We've partnered with Snap to bring exclusive Snapchat features to the Pixel. For example, you can set it up so when you tap the back of your Pixel 6 or Pixel 6 Pro twice, it will
launch the Snapchat selfie camera
.
5. When you're flipping through your photos on a Pixel 6 or Pixel 6 Pro, Google Photos can
proactively suggest using Magic Eraser
to remove photobombers in the background.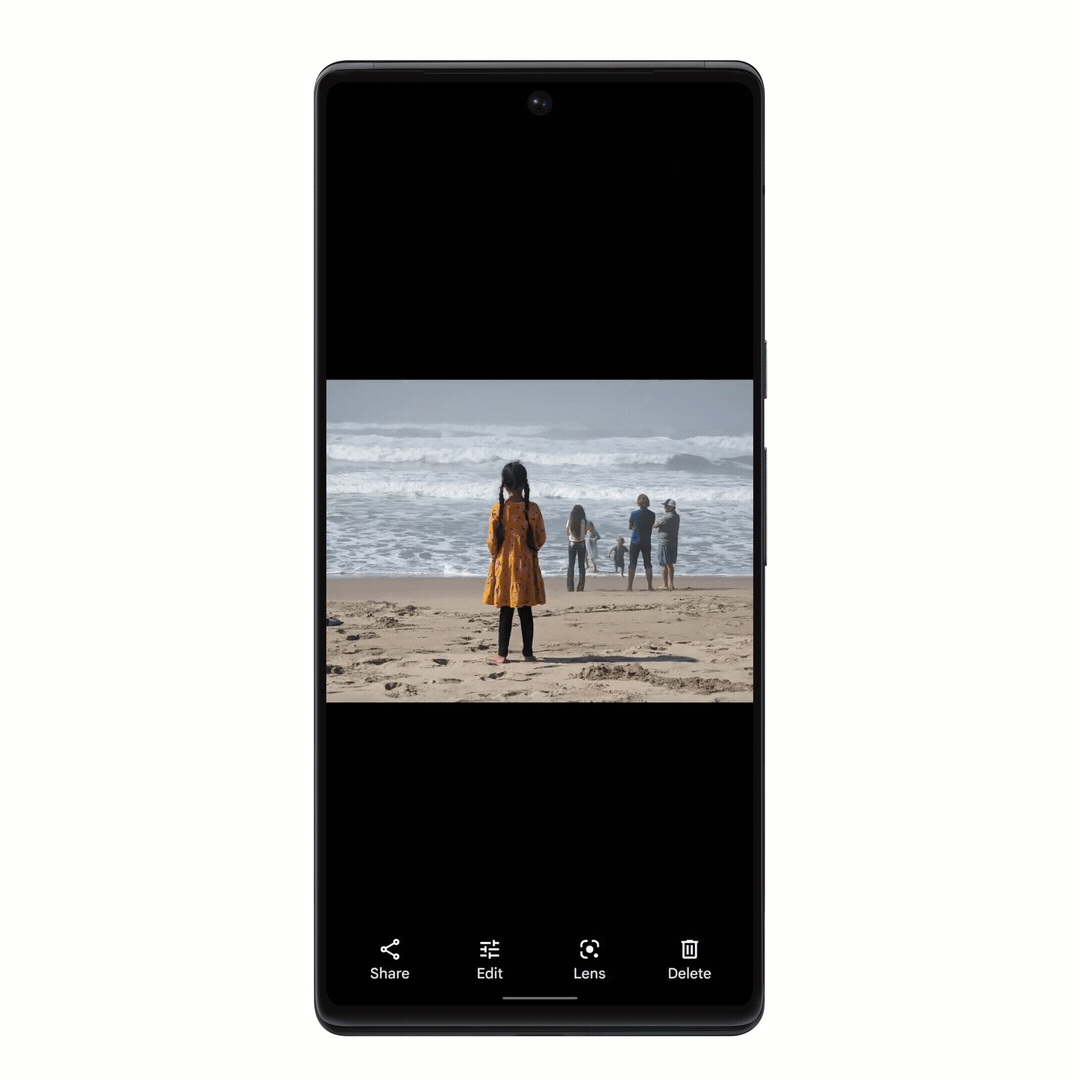 6. The camera bar is a major new hardware design feature in the Pixel 6, and part of the reason it's there is to
fit a much bigger sensor, which captures more light so photos look sharper — in fact, the new sensor lets in 150% more light than that of the Pixel 5's
. The Pixel
Pro 6's Telephoto camera also uses a prism inside the camera
to bend the light so the lens can fit inside the camera bar.
7. The Pixel 6 comes in Kinda Coral, Sorta Seafoam and Stormy Black, and the Pixel 6 Pro comes in Cloudy White, Sorta Sunny and the same Stormy Black. These shades are stunning on their own, but you can
customize them even more with the new translucent cases
: Combine the Sorta Seafoam Pixel 6 with the Light Rain case for an icy new look.
8. New in Android 12 and exclusive to Pixel 6 and Pixel 6 Pro,
Gboard now features Grammar Correction
. Not only will it make communication easier, but it will also work entirely on-device to preserve privacy. You can learn more over on the
Google AI blog
.
Related posts:​
With these Pixel tips, your photos will bloom bright Spring has sprung, and so have desert wildflowers, daffodils along...
Google hardware. Designed to work better together. This year marks Google's 20th anniversary—for two decades we've been...
Pixel 3 and on-device AI: Putting superpowers in your pocket Last week we announced Pixel 3 and Pixel 3XL, our...
Continue reading...